Common Treated Wood Sizes

Below are the actual and nominal sizes of treated wood, their common lengths and popular uses. Also listed are standard deck board dimensions and landscape timber size.
Popular Projects You'd Be Proud to Build
From garden and work benches to sheds and fencing, check here for links to the project plans listed below.
Firewood Shed

Work Bench
Potting Bench
Planter Bench
Outdoor Storage Locker
Pavilion and Shed
Boardwalk
Wood and Stone Deck
Pergola
Gazebo
Waist-high Raised Garden Planter
Renewing a Fence
Decking and Fencing Building Tips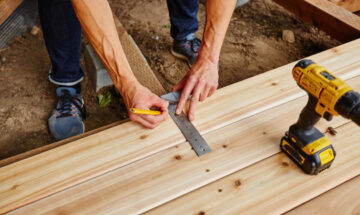 Topics covered in our 10-part series
Part 1. AWPA Category uses of pressure treated wood and end tags explained
Part 2. Common treated wood sizes in nominal and actual dimensions plus popular project plans
Part 3. Hardware and installation tips including field treatment for end cutsPart 4. 11/18/21Staining treated lumber
Part 6. Tips for shoveling snow and ice removal on wood decks

Part 8. Research on treated wood used in raised garden beds
Part 9. How wood is pressure treated
Part 10. How to interview contractors and check references

If you have questions, or suggestions for other treated wood related subjects, let us know.
For quick answers and more tips, click here.