Pressure-treated wood has chemicals impregnated deep into the fibers. They should always be handled properly to ensure safety. Follow the safe practices listed below when working with pressure-treated wood. Specific work practices may vary depending on the environment and safety requirements of individual jobs.
Safe Handling Practices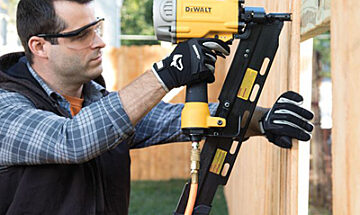 Wear a dust mask and goggles when cutting or sanding wood.
Wear gloves when handling wood.
Wash hands thoroughly with mild soap and water after working with treated wood.
Wash work clothes separately from other clothes.
Pressure-treated wood should not be used where it may come into direct or indirect contact with drinking water, except for uses involving incidental contact. Pressure treated wood contains standardized preservatives with retention levels for specific exposures: interior, exterior, fresh water and salt water.
Do not use pressure-treated wood in circumstances where the preservative may become a component of food, animal feed or beehives.
Do not use pressure-treated wood for mulch.
All sawdust and debris should be cleaned up and disposed of after construction.
Do not burn pressure-treated wood.
Pressure-treated wood may be disposed of in landfills or burned in commercial or industrial incinerators or boilers in accordance with federal, state and local regulations.
Topics covered in the 10-part series
Part 1. AWPA Category uses of pressure treated wood and end tags explained
Part 2. Common treated wood sizes in nominal and actual dimensions plus popular project plans
Part 3. Hardware and installation tips including field treatment for end cutsPart 4. 11/18/21Staining treated lumbe

Part 4. Staining treated lumber

Part 6. Tips for shoveling snow and ice removal on wood decks

Part 8. Research on treated wood used in raised garden beds
Part 9. How wood is pressure treated
Part 10. How to interview contractors and check references

If you have questions, or have suggestions for other treated wood related subjects, let us know.
For quick answers and more tips, click here.