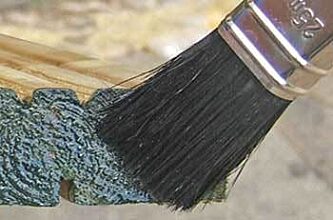 End Cuts: Field Treatment of Treated Wood Products
The American Wood Protection Association (AWPA) develops international standards for wood protection that improve the performance and longevity of sustainable wood products. These standards are published annually in the AWPA Book of Standards. The standard for field treatment, M4-21, is the focus of this article. Field treatment is a condition for treated wood warranty coverage for most preservative manufacturers.

The Standard for the Care of Preservative-Treated Wood Products, Standard M4-21, prescribes requirements for field fabrication, field treatment and management of used treated wood products, which includes treated poles, piles, lumber and ties in plants, storage yards, and on job sites.
From the AWPA website, AWPA explains, "When wood is pressure treated with preservatives, it is absorbed in varying amounts by the sapwood, but only a small amount of preservative penetrates the heartwood, juvenile wood, and some of the wood surrounding knots. Therefore, all drilled holes and cut ends need to be treated with a preservative, such as copper naphthenate (for exterior use) or oxine copper (for above ground use) or boron-based preservative (for interior use).

Highlights from the M4-21 Standard, Section 6 Field Treatment include the following:
All cuts, holes, and injuries such as abrasions or holes from removal of nails and spikes which may penetrate the treated zone shall be field treated.
An AWPA accepted preservative system, determined appropriate in accordance with Section 7 of this standard, shall be used for field treatment.
Field treatment preservatives shall be applied in accordance with the product label. The application method shall coat any surface that is exposed by damage or field fabrication while not using excess preservative.
Any excess preservative not absorbed by the wood product shall be cleaned from the surface prior to the use of the product.
Bored holes for connectors or bolts ay be treated by pumping coal-tar roofing cement meeting ASTM D5643 into holes using a grease gun or similar device.
Careful attention should be given to materials placed into aquatic environments.
These materials shall not be used unless the field treated surface is clean, dry, and free of excess preservative.

Section 7 Preservatives: Below are the more widely available preservatives used for field treatment.

Copper Naphthenate
Contains 2% copper metal. In areas where the 2% concentration is not readily available, 1% is appropriate in those regions.
Copper naphthenate when initially applied, is a bright green color that weathers to light brown. It also has an odor that dissipates somewhat over time.
Available in paint, hardware, or building supply stores, as well as online from Poles, Inc., and other sites under the brand name "Tenino."

Oxine Copper
Contains a minimum .675% oxine copper (1.12% copper metal)
Recommended for use in above ground applications only
"Outlast Q8 Log Oil" can be found online from the manufacturer, Amazon, and from log home supply companies.

Inorganic Boron
Commercial products such as "Bora-Care" may be used, but saturated solutions of borax and/or boric acid in hot water may also be used.
Recommended for use in above ground applications and continuously protected from liquid water.
This product is also available online.
Please note that deck stains and sealers do not provide adequate protection.
Sources:

https://awpa.com/info/technical/builders

https://preservedwood.org/how-to/field-treatment

https://www.treatedwood.com/woodchat/do-i-need-to-treat-the-cut-ends-of-my-fence-posts

https://www.treatedwood.com/installation-safe-practices-care-and-maintenance