A NADRA Deck Safety Program
"Checking your deck should be a top priority for every homeowner," says Michael Beaudry, Executive Vice President of the North American Decking and Railing Association (NADRA). "We encourage homeowners to take advantage of our resources and tools to ensure the safety and longevity of their decks. By doing so, they can help prevent accidents and injuries, and enjoy their outdoor space with peace of mind."
You may think all your deck needs is a power-wash and stain every year or so, but a safety check should be part of routine maintenance," says Ashita Kapoor, associate director of product safety at Consumer Reports." Check his list of of items to check in and under your deck.

We at Viance, have added a few more tips below to make sure your outdoor living retreat is a great place to enjoy safely with family and friends.
Make sure gutters are angled away from underneath the deck

, so water doesn't pool underneath. The ground under your deck should slope away from the house. Fix this if it doesn't slope away from the house. Moisture can cause significant damage not only to your deck but also to your home's foundation.
Create air flow under the deck, especially if you use it for storage. Make sure air can flow from side to side and through the front as well. Be careful what you store under your deck. Do not store firewood under your deck as it can attract pests, rodents, or snakes.

Do not use chlorine bleach

(sodium hypochlorite) to clean your deck as it breaks down the lignin in wood causing excessive damage to wood cells. Bleach corrodes metal fasteners, screws and nails and does not eliminate the spores from which mold and mildew grow. Use hydrogen peroxide, an environmentally friendly and safer substitute than bleach. For tough jobs, hydrogen peroxide kills the mildew on contact within several minutes. Sodium percarbonate, an environmentally friendly and excellent detergent, contains a hydrogen peroxide base with a strong fungicide effect. It has been tested and found to be effective attacking the deeper-rooted organic growth on the porous wood surfaces. Click here for other tips on care and cleaning.
If your deck is in a tree-shaded area, use a table without a glass top. Glass tabletops are a magnet for fallen tree branches. Trim back branches when needed and keep a watch for dead branches overhead.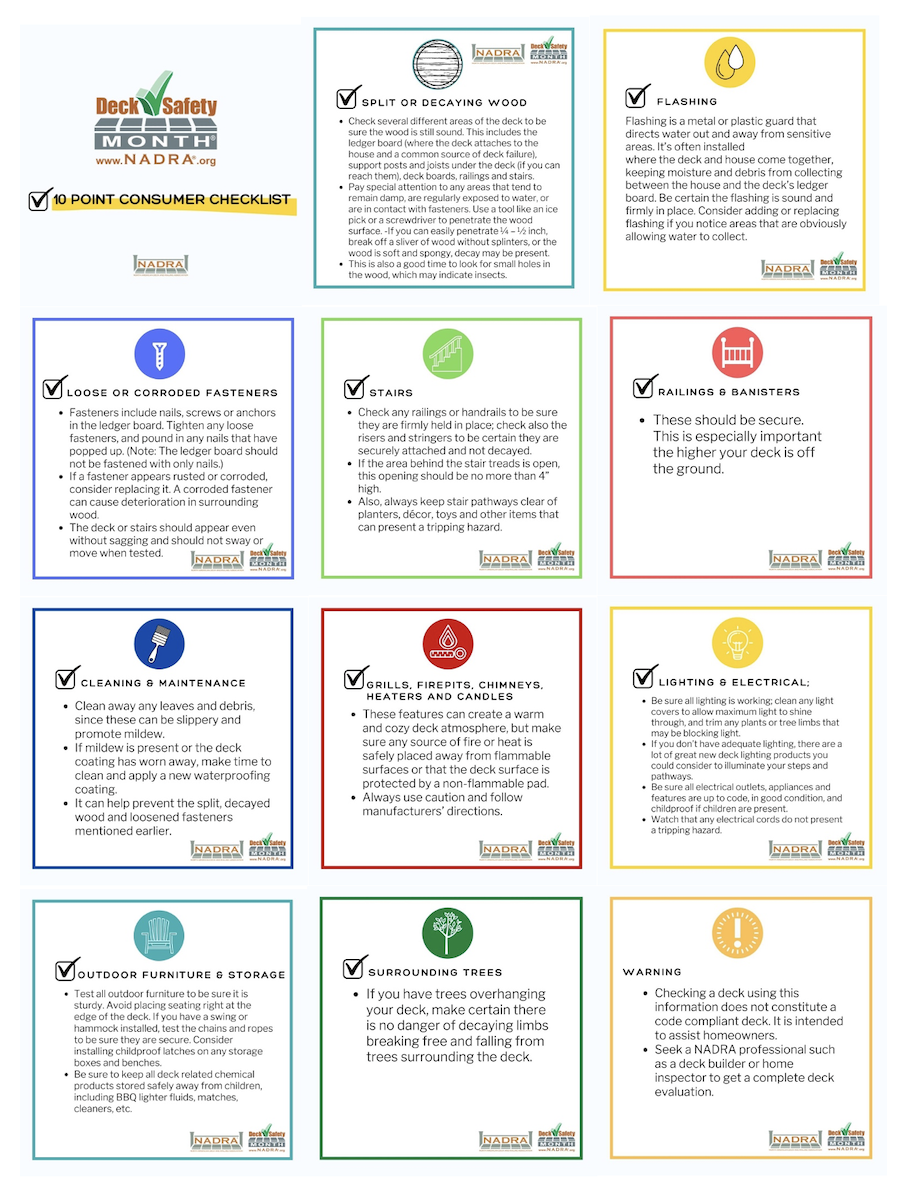 If your home has some age on it, find a deck inspector to evaluate the safety of your deck. For any needed structural repairs, call a pro deck builder. These pros build decks every day and can fix safety issues such as unstable posts, wobbly railings, and corroded fasteners.
Download Your 10-Point Deck Safety Checklist
Questions? Contact info@NADRA.org
NADRA® and May is Deck Safety Month® are trademarks of the North American Deck and Railing Association.
Do you have questions about treated wood? Contact us anytime.