D-Blaze® fire retardant treated wood (FRTW) should not get wet.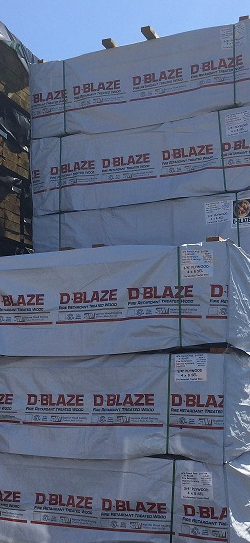 D-Blaze FRTW must be kept dry during transit and on the jobsite by covering the top of the bundle, storing the material under shelter, elevating the bundle from ground contact, and allowing for air circulation around the wood.
D-Blaze wood should not be installed where it will be exposed to precipitation, direct wetting, or in contact with the ground.
Roof sheathing should be covered as soon as practical after installation.
If D-Blaze FRTW becomes wet during construction, allow to dry before enclosure or covering with roofing material.
D-Blaze FRTW must not be used in applications exposed to continual wetting.

If D-Blaze gets wet, the performance properties of the treatment may suffer. Since the degree of rain exposure will vary, if D-Blaze gets wet during transit, storage or on the jobsite, then D-Blaze FRTW must always be dried to original specifications before being covered or enclosed.
D-Blaze FRTW can be cut; learn what is permissible and what is not.

Cutting lengths, drilling holes, and light sanding are permissible.

D-Blaze treated plywood can be ripped or cross-cut.

Most species of FRT lumber should not be ripped or milled.

It is not necessary to field-treat cut-ends to maintain the flame spread rating.
Type of fasteners to use
Always follow building code requirements.


Hot dipped galvanized steel hardware is generally recommended.

Although the fire retardant treatment does not increase the corrosion of bare steel, the galvanizing process provides an extra margin of safety, particularly in wet environments.
Why D-Blaze FRTW cannot be stained or painted

We do not recommend staining or painting because the finish could be flammable and compromise the performance, of D-Blaze in terms of flame spread and smoke generation should a fire occur.
D-Blaze FRTW disposal
FRT wood is not considered a hazardous material and can be disposed of by typical means in accordance with local waste management policies.